Alice Powell Podcast Launch For Bristol Street Motors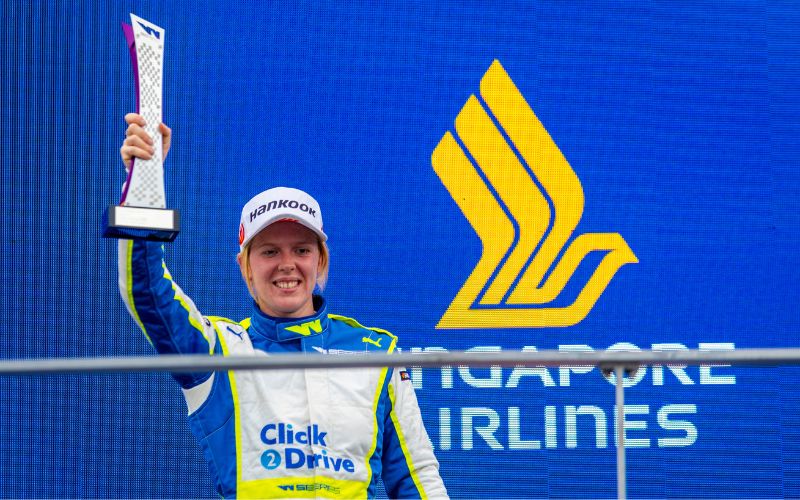 2022 Kwik Fit British Touring Car Champion Tom Ingram and cricketing hero Darren Gough are just two of the first guests to appear in the new Bristol Street Motors 'The Driver!' podcast, hosted by W Series racing driver and presenter of the Channel 4 coverage of F1, Alice Powell.
The first episodes will also feature fellow W Series team racing driver Jessica Hawkins, in addition to sports presenter Eilidh Barbour.
The Driver! podcasts will be available on all major streaming platforms including Spotify, Apple Podcasts and YouTube.
Across the video podcast series, Alice plans to have entertaining and informative chats with guests, from a wide range of motorsport, sports and other sectors.
The first episode, entitled 'Motorsport', which delves into the drive, mental strength and support required to succeed in the motorsport world, drops this Friday.
Alice Powell said: "I'm delighted that Bristol Street Motors has given me this opportunity. I am really looking forward to talking to our guests, getting deep into what drives them to be successful and learn about challenges they have faced in their careers.
"It was amazing to talk to Tom Ingram just days after he was crowned champion and Darren Gough, a true legend of the cricketing world and now a respected broadcaster in his own right.
"I am looking forward to meeting old friends and making new ones over the coming months; I hope the audience enjoys the podcasts as much as I enjoy making them."
Robert Forrester, Chief Executive of Bristol Street Motors, said: "Bristol Street Motors is proud to have supported Alice and Jessica during this season's W Series races, and to have a number of different and diverse partnerships across our wider Group's brands.
"This new podcast will allow fans to get to the heart of what makes a great sportsperson successful, and meet people, like Eilidh Barbour who work within the industry.
"To us, the first episode highlights some of the synergies between what we do and what our motorsport teams' incredible racing drivers do. Alice Powell and guests discuss the attention to detail, teamwork and determination required for them to succeed – exactly what we're all about as a brand.
"I can't give away too much, but there are some very interesting conversations that transpire in that first episode, including insight into Jessica's thrilling Land Rover spillway stunt and Tom Ingram's first deep dive into his season since winning the British Touring Car Championship.
"Alice is a fantastic presenter and we're all very excited to launch this series. We can't wait to listen to the intriguing conversations had with some greatly inspiring guests."
The first Bristol Street Motors The Driver! podcast episode will be available to stream from Friday 28th October across all major podcast hosting platforms.
Bristol Street Motors launched its own W Series team, Click2Drive Bristol Street Motors Racing, and was a title sponsor of the Kwik Fit British Touring Car Championship (BTCC) programme, supporting the EXCELR8 Motorsport team, including champion Tom Ingram and Tom Chilton.
Also part of the Group to which Bristol Street Motors belongs to,Vertu Motors holds partnerships with a number of sports clubs across the country, including in football and cricket, with Burnley FC, Middlesbrough FC and Sunderland AFC, alongside Nottinghamshire County Cricket Club, Yorkshire County Cricket Club and Durham Cricket.
In addition, the brand has a long-standing relationship with Newcastle Eagles basketball team and has naming rights for the Eagles' Vertu Motors Arena in Gateshead.
Vertu Motors is also partnered with the Professional Footballers' Association, for the PFA Vertu Motors Fans' Player of the Month Award, which will run throughout the 2022/23 season. Sporting personalities, Darren Gough and Karen Carney, are also Brand Ambassadors for Vertu Motors.