Charity Skydive Challenge For Bristol Street Motors Ford Colleagues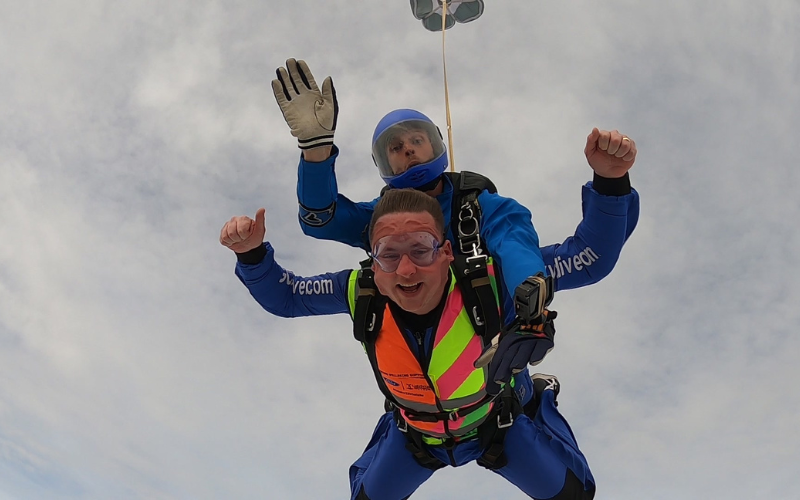 Seven colleagues working for Bristol Street Motors Ford Transit Centres have leapt out of an aeroplane for their latest charity fundraising challenge.
Led by Ford Commercial Vehicle Sales Director David Lee, the intrepid team jumped from a Cessna 208 at Old Sarum Airfield in Salisbury to raise money for The Lighthouse Club's #MakeItVisible campaign.
Each year, David and colleagues choose a charity to support with their latest adventure, and this year opted for The Lighthouse Club, which is the good cause Ford is currently partnered with.
The Lighthouse Club provides mental, physical and financial support to the construction community and their families. To date, the team has raised £2,385.
David Lee, Commercial Vehicle Sales Director at Bristol Street Motors Ford Division, said: "We all jumped, literally, at the chance to help such a fantastic charity. Every day my team and I support the construction industry with commercial vehicles, and with Ford also supporting the charity it seemed the obvious choice.
"We try and set ourselves a fundraising challenge every year. Not only is it helping worthwhile causes but it's a great team building and bonding exercise, and we get to have fun as well.
"Skydiving was pretty nerve wracking, and it seemed an awfully long way down, but when the adrenalin kicked in it was the experience of a lifetime. I'm not sure how we're going to top it next year!"
The colleagues taking part alongside David were Tom Garratt, Ros Hunt, Alex Weston, Dean Bradbury, David Ellison and Sam Symonds-Cassells.
Visit the team's Just Giving page to find out more or make a donation: https://www.justgiving.com/fundraising/bsmmakeitvisibleskydive