Exeter BMW Dealership Named Best In Country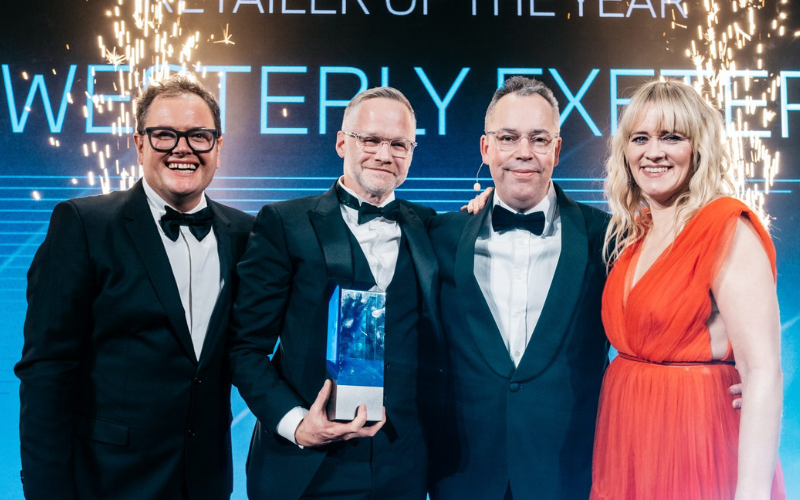 Westerly Exeter BMW, which was acquired by the Vertu Motors group in December 2022, beat stiff competition to be named as BMW Retailer of the Year.
The dealership also won the BMW Sales Award, before going on to take home the overall title.
A total of 21 accolades at the 2022 BMW UK Retailer of the Year Awards recognised the efforts of dealership teams across the premium manufacturer's network, with a range of categories covering areas such as sales, marketing and sustainability.
The awards were presented at a glittering ceremony at the ACC Liverpool, hosted by comedian Alan Carr and radio presenter Edith Bowman.
The Exeter BMW dealership was purchased by Vertu Motors plc last month as part of its acquisition of Helston Garages Group; all colleagues who achieved these awards remain working at the site.
Simon Emery, Head of Business at Exeter BMW, said: "I am incredibly proud of the team for winning both the BMW Retailer of the Year award and the BMW Sales Retailer of the Year award. This really is down to all their hard work, dedication and passion for the job they do, each and every working day.
"My entire BMW sales team set out their ultimate team goal of achieving the BMW Sales Retailer of the Year award, following last year's virtual event. I know how much time and effort was put into 2022 by the entire team and I could not be happier for them."
Robert Forrester, Chief Executive of Vertu Motors plc, said: "This is a fantastic achievement for Helston Garages Group and whilst not reflecting on the Vertu Motors group in any way, I do think it shows the quality of the businesses that we have acquired in the south-west of England.
"Congratulations to Franchise Director, Kirk Broome, General Manager, Simon Emery and all the other outstanding colleagues at Exeter BMW who delivered such a successful year to win this award.
"The dealership retains its excellent team of colleagues, who I know are dedicated to continuing to offer customers the very best experience."