Former Flight Attendants Return To The Skies For Charity Skydive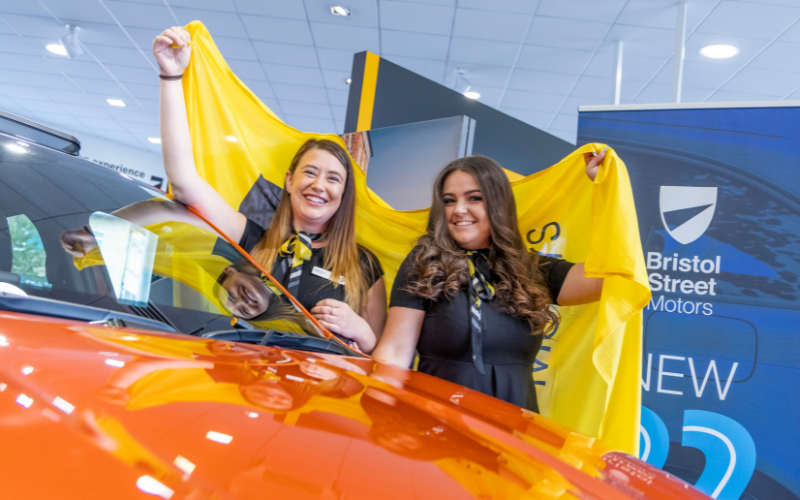 Two former flight attendants, who now work for Bristol Street Motors Bradford Nissan and Renault, are taking to the skies in a totally different high-flying capacity – all in the name of charity.
Sophie Smart and Cora-Lily Sellers plan to do 15,000 feet tandem skydive on 6th August 2022 in aid of children's charity, Cash for Kids.
Sophie is a Sales Executive and Cora-Lily Sellers a Sales Advisor at the Bradford dealership, which is based in the city's Thornton Road.
Sophie, who lives in Huddersfield, has worked for Bristol Street Motors since September 2020. She was previously employed as cabin crew by Thomas Cook, based at Manchester Airport before the company folded.
Cora-Lily, who lost her job due to the pandemic, applied for a vacancy at the dealership after buying a car from it and started in her new role in August last year. Cora-Lily, who lives in Bradford, previously worked for Jet2 at Leeds Airport.
Pulse 1's Cash for Kids supports children living in West Yorkshire, Harrogate, York and the Yorkshire Dales, with a focus on alleviating poverty, supporting disability and improving youngsters' quality of life.
Sophie and Cora-Lily hope to raise £900 each and have already attracted more than £600 in donations between them.
Sophie said: "While I took to the skies during my time as cabin crew, this is a totally different prospect.
"I am somewhat nervous about doing the skydive, but I am determined to do it to raise as much money as possible for a really great cause, which does so much for local children."
Cora-Lily said: "Cash for Kids provides fantastic support that makes a huge difference to the wellbeing and welfare of children across West and North Yorkshire.
"I hope we can exceed our targets, as every child deserves the chance to have a happy and healthy childhood. Every penny is one step closer to providing that for children in Yorkshire."
The Bradford dealership already has links with Cash for Kids, having collected festive gifts for its Mission Christmas campaign.
Bristol Street Motors Bradford Nissan and Renault is holding a cake sale in July, aimed at colleagues and customers, to contribute to Sophie's and Cora-Lily's fundraising total.
Colleagues also intend to visit Hibaldstow Airfield in North Lincolnshire on 6th August to cheer Sophie and Cora-Lily on in their breath-taking charitable endeavour.
People who would like to donate can visit:
https://www.cashforkidsgive.co.uk/campaign/pulse-1---greatest-hits-radio-skydive-2022/fundraisers/cora-lily-sellers/
https://www.cashforkidsgive.co.uk/campaign/pulse-1---greatest-hits-radio-skydive-2022/fundraisers/sophie-smart/