Local Charities Benefit From York Car Dealership's Sales Initiative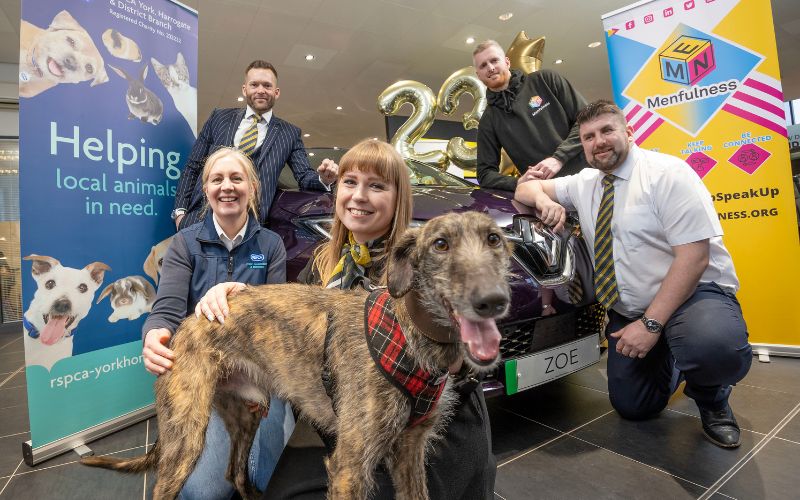 Bristol Street Motors York Renault Dacia has partnered with two local charities to support their fundraising efforts.
For every new car sold, the dealership has been donating £10 to York RSPCA or Menfulness, as chosen by the customer. This replaces the more old-fashioned approach of presenting a bouquet of flowers to the new vehicle owner.
The York RSPCA animal home is licensed to look after 30 dogs, 24 cats and nine rabbits, as well as many small 'furries' and birds. Its wildlife unit houses hedgehogs and feral birds, which are released back into the wild once they are restored to full health.
Maintenance of the nine buildings, staffing costs, supporting the volunteers, veterinary bills and most importantly caring for, rehabilitating and rehoming the animals costs around £1,750 a day. All money raised is used locally by the charity.
Menfulness is a charity that brings York men together to socialise, exercise, enjoy themselves, talk and let off steam in a non-judgmental, friendly and supportive environment. These are all essential for wellbeing and health, both physical and mental.
Tony Cornelius, General Manager at Bristol Street Motors York Renault Dacia, said: "It fills me with excitement and pleasure to join forces with both Menfulness and RSPCA York, forming a strong long-lasting partnership that helps to support the local community.
"Having met both charities personally and seeing the exceptional work they do in the local area, I'm confident our dealership's colleagues and customers will really be able to help make a difference to both charities over the coming weeks, months, and years.
"Jessica Bright, one of our Sales Executives, has put some real hard work and dedication into forming these partnerships, so full credit to her. Thank you, Jessica, for making this happen, with the support of both Menfulness and RSCPA York."
Peter Gorbert, Branch Manager at RSPCA York, Harrogate and District Branch, said: "We're really excited to be part of this initiative. It's always great when local businesses reach out and want to help support local charities in their area.
"The team at Bristol Street Motors York Renault Dacia were so passionate about supporting good causes; we're excited about what other things we could do in the future.
"Support and funding like this is so important, especially as the cost-of-living crisis is forcing many owners to consider signing over their animals, and animal abandonment is at an all-time high. Bristol Street Motors York Renault Dacia customers will be making a direct difference to the lives of animals here in York."
Matty Lewis from Menfulness said: "The reason we, as a team of five, run Menfulness in our spare time, is to break the stigma behind men's mental health and get men talking. The best way we can do that is simply through exposure.
"When Jessica at Bristol Street Motors York Renault Dacia got in touch about the initiative, we felt so fortunate that they selected us as a nominated charity, alongside the RSPCA. The partnership will really help shine a light on what we do, and if one bloke reaches out as a result, it's worth its weight in gold.
"The fact that the partnership also raises funds for us is incredible. Every penny goes towards life changing/saving private counselling, available within 24hrs with Serendipity in York. When customers donate, they really are making a difference.
"We'd like to thank Jessica and the rest of the brilliant Bristol Street Motors York Renault Dacia team for their support."