Macklin Motors Unveils Livery For Ronan Pearson Racing Car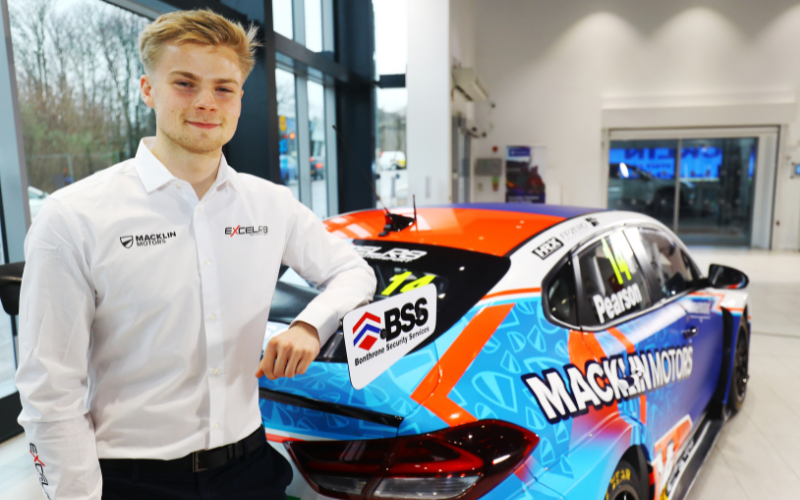 The stunning livery of the car that will be driven by rising star Ronan Pearson during the 2023 Kwik Fit British Touring Car Championship (BTCC) season has been unveiled.
Ronan Pearson has been confirmed by EXCELR8 as the final member of its line-up for the season and he will be backed by Macklin Motors, a Scottish motor retail brand that is part of the same group as EXCELR8's primary partner Bristol Street Motors.
Macklin Motors staged the livery reveal event at its landmark Macklin Motors Glasgow Central dealership, known locally for the iconic Nissan tower; the site on Port Dundas Road boasts a prominent eight-storey glass car display, which stands above the M8 motorway.
The livery on the #14 Hyundai i30 Fastback N that Ronan will race in his debut campaign has been designed to showcase Macklin Motors' corporate colours - as well as those of Bristol Street Motors - and features a striking blend of red, blue and white.
The Macklin Motors logo takes pride of place along the side of the car, with the Macklin Motors shield incorporated into the design across the rear quarters and tailgate, as well as on the bonnet.
The gradient shields are an exciting part of all four cars' designs, representing both the Macklin Motors and Bristol Street Motors brands on Ronan's car. NASCAR-style numbering, coupled with eye-catching lightning flashes help to create a strong sense of speed.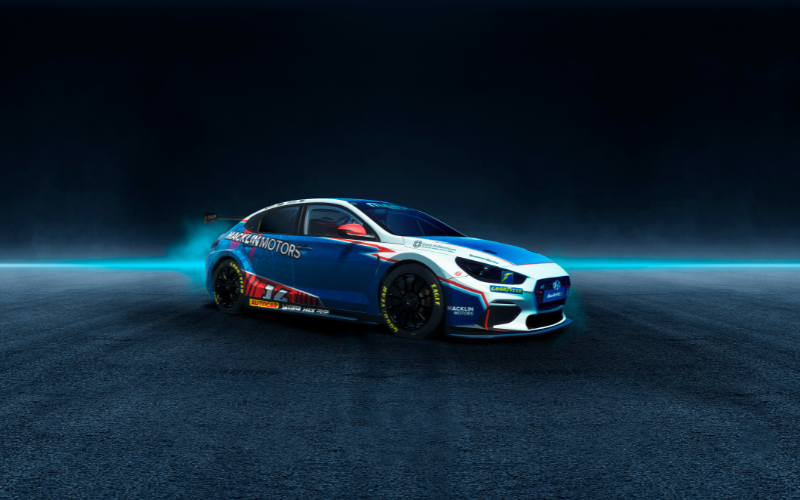 Ronan will join forces with defending champion Tom Ingram, experienced winning driver Tom Chilton, and fellow series rookie Nick Halstead in one of EXCELR8's Hyundai i30 Fastback N Lines, making him the first member of EXCELR8's BTCC Young Driver Development Programme to graduate into a BTCC race seat.
As a touring car debutant, Ronan will be amongst the drivers eligible for the Jack Sears Trophy; the title named after the BTCC's first champion and open to those racers without an overall podium finish to their name.
Macklin Motors has grown to become one of the leading motor retailers in Scotland, operating a total of 17 dealerships across Scotland - including Hyundai showrooms in both Edinburgh and Dunfermline.
After an extensive pre-season testing programme, Ronan's BTCC debut will take place at Donington Park in late April, with his biggest event of the year on home soil at Knockhill Circuit scheduled for the weekend of 12-13 August.
Robert Forrester, Chief Executive of Macklin Motors, said: "The livery on Ronan's car truly reflects the Macklin Motors brand and looks fantastic.
"Our dealerships' colleagues across Glasgow, Edinburgh and Dunfermline are eager for the racing to start now.
"We are all hoping for an exciting and successful season. We wish Ronan, and his fellow drivers part of the BRISTOL STREET MOTORS with EXCELR8 team the very best of luck, and many podium finishes!"
Ronan Pearson, #14 EXCELR8 Hyundai i30 Fastback N driver, said: "Having always dreamed of racing in the BTCC, it was a surreal feeling to announce my move into the series last month. However, that was nothing compared to the feeling that came from walking in to see the Hyundai in the Macklin Motors livery with my name on the side.
"I think the car looks fantastic and I'm hugely proud to have this opportunity thanks to Macklin Motors, EXCELR8 and all of the loyal sponsors who have supported me to get to this stage in my career.
"With my car all liveried up and ready to go, everything suddenly feels very real and I can't wait to hit the track to get pre-season testing underway and start working towards the opening rounds at Donington Park next month."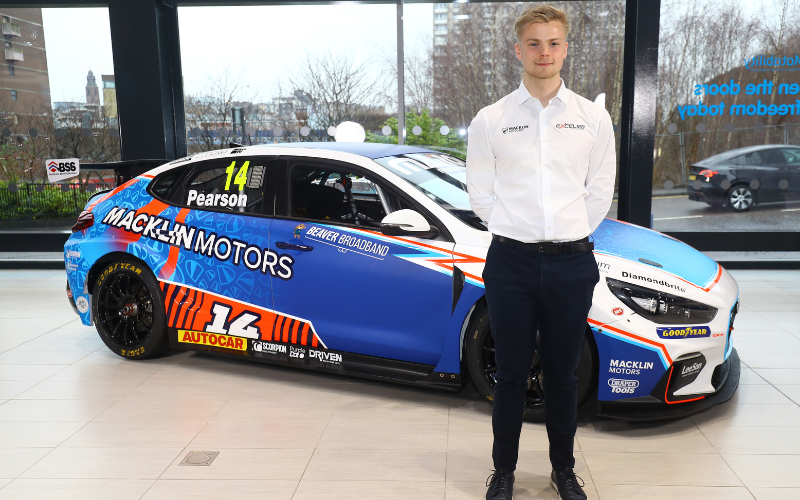 Justina Williams, EXCELR8 Team Owner, said: "It's fantastic for us to be able to show off Ronan's livery ahead of his debut season, which we know is going to stand out for fans watching trackside.
"The support of Macklin Motors has been key in allowing Ronan to make the step up into the BTCC, and the colour scheme really showcases their brand as well as the other Scottish sponsors who are involved in his programme.
"We have high hopes for Ronan this season, and we're confident that he will be able to deliver some results that are as eye-catching as his race car as the year goes on!"