North East Man Gets Daughter Back On The Road Thanks To Car Raffle Win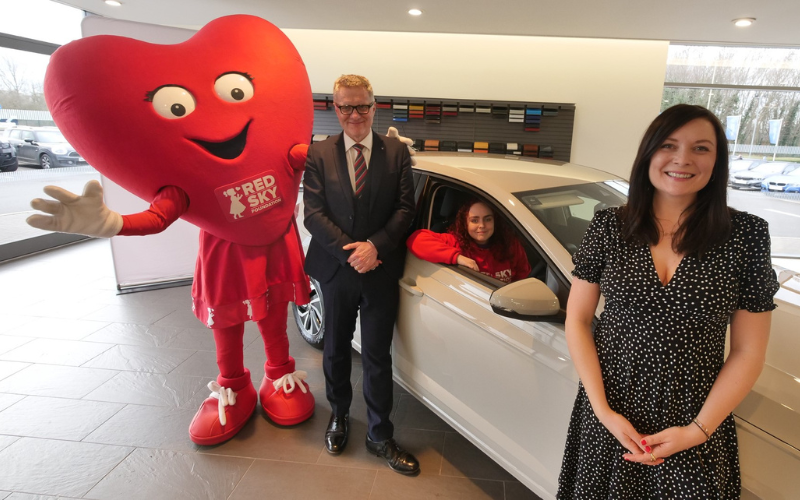 North East company director Neil Harrison has made his daughter's dreams come true after winning a 72-reg Volkswagen Polo in the Charity Escapes' Great Christmas Raffle.
Neil chose to gift the car, which has an RRP of more than £19,500, to his 21-year-old daughter Caitlyn, who has recently returned home after completing her university degree.
The Great Christmas Raffle, organised by Charity Escapes, has more than doubled its previous year's fundraising efforts, bringing in over £93,000 for more than 70 hard-pressed British charities.
The star prize of a 72-reg Volkswagen Polo in Ascot Grey was kindly donated by Vertu Motors, in the motor retailer's third year of supporting the raffle.
Neil Harrison, winner of the Polo, purchased his ticket as part of a fundraising drive for cardiac care charity, Red Sky Foundation.
It was the roofing company director's first time supporting the Great Christmas Raffle, which started as a way to help charities to continue fundraising during the initial wave of Covid-19 lockdowns. The annual raffle has now raised nearly £200,000 for organisations across the length and breadth of the UK.
Neil Harrison, a director at AB Roofing Solutions, said: "I bought the tickets at Red Sky Foundation's White Ball event after being invited by a client of mine. I've admired the charity for all of its amazing, life-saving work for a while and was really touched to hear the story behind it. When you hear Sergio, who runs Red Sky Foundation, speak, you really feel his passion for the cause. It's really inspiring.
"I was shocked when I got the call to say my ticket was the winner. It was perfect timing too; my daughter has just come back from university, and we were looking at getting her a little run-around, but now she has a 72-reg Volkswagen Polo!"
Carly Sells, Director at Charity Escapes, said: "The response to this year's Great Christmas Raffle blew us all away. It keeps growing year-on-year and gives charities a crucial lifeline, especially at a time of the year when they are really pressed. This is our biggest year yet and I only hope that it continues to get bigger and continues to help charities to do their vital work!
"While the restrictions that prevented charities from carrying out their fundraising activities during the initial phase of the Covid-19 pandemic have gone, the sector continues to face difficulties; with an unprecedented rise in running costs, it puts pressure on charities to be able to continue operating, in addition to the demand for their services.
"I want to give a huge thank you to Vertu Motors, a national brand which has supported the Great Christmas Raffle for years now. Without the backing of Vertu Motors and all the colleagues within the company behind our initiative, there are many charities who may not have been able to continue to do their good work."
Neil's daughter Caitlyn, the new owner of the Volkswagen, said: "I'm over the moon to be back on the road in a beautiful new Polo. It's such a lovely car and perfect for someone of my age."
Robert Forrester, Chief Executive of Vertu Motors, which donated the Volkswagen Polo, said: "It is hugely satisfying to see the growing success of the Great Christmas Raffle. In the last three years, it has helped more than 100 charities and raised a phenomenal amount of money for so many worthy causes.
"Vertu Motors operates dealerships across the UK and looking at the list of charities that have taken part this year, I am delighted to see that there's such a geographical spread of local initiatives, supporting a multitude of communities."
Charity Escapes, the organisers of the raffle, was founded by investor and philanthropist Jeremy Middleton to connect charities in need with businesses willing to donate prizes for fundraising efforts. It commits to ensuring 100% of the money raised from the prizes it supplies go to charities.