Sunderland Gymnasts Jump For Joy After Bristol Street Motors Donation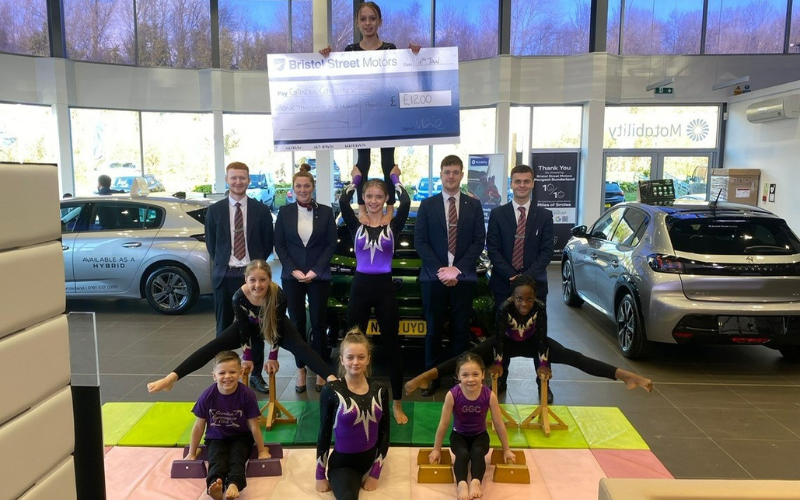 Bristol Street Motors Sunderland Vauxhall and Peugeot have helped a local gymnastics club to reach its fundraising target and unlock match-funding from Sport England.
Grindon Gymnastics Club launched an appeal to raise £10k towards new tumble and gymnastics equipment, as they grew desperate to upgrade what they currently had. The deadline to secure match funding from Sports England fell in December 2022, with the club being £1,200 short of its goal.
Bristol Street Motors Sunderland Vauxhall and Peugeot stepped in to donate the shortfall, after the dealership's General Manager Verity Hall was told the disappointing news through a colleague.
Grindon Gymnastics Club is a Community Interest Company (CIC); it's a self-funded, non-profit club with over 400 members, and a waiting list of another 400. Membership costs are kept low, enabling youngsters who may be financially excluded from gymnastics the same opportunity as others. It also raises money to support with the cost of costumes and outfits for competitions.
Grindon Gymnastics Club caters for youngsters from just six months to 18 years of age, in a converted industrial garage in Southwick, Sunderland.
Jane Henderson who runs the club, said: "I was determined not to miss out on the £10,000 extra funding, which would have made such a huge difference to our club and gymnasts.
"Verity and the team at Bristol Street Motors were like knights in shining armour, ensuring we reached our target and the match-funding. I can't thank them enough!"
Verity Hall, General Manager at Bristol Street Motors Sunderland Vauxhall and Peugeot, said: "A colleague at another one of our Group's dealerships, whose daughter attends the gymnastic club, told me about the shortfall in fundraising and what the club means to all who attend. We were delighted to step in and help.
"The club is situated fairly close to our dealership, and it does amazing work to ensure that gymnastics are open to everyone. We plan to continue our support of Grindon Gymnastics Club, promoting their shows and the events they hold locally, whilst also introducing a referral scheme, which will allow the club to benefit from any car purchased through it."