Vertu Motors Becomes Official Partner Of MINI CHALLENGE UK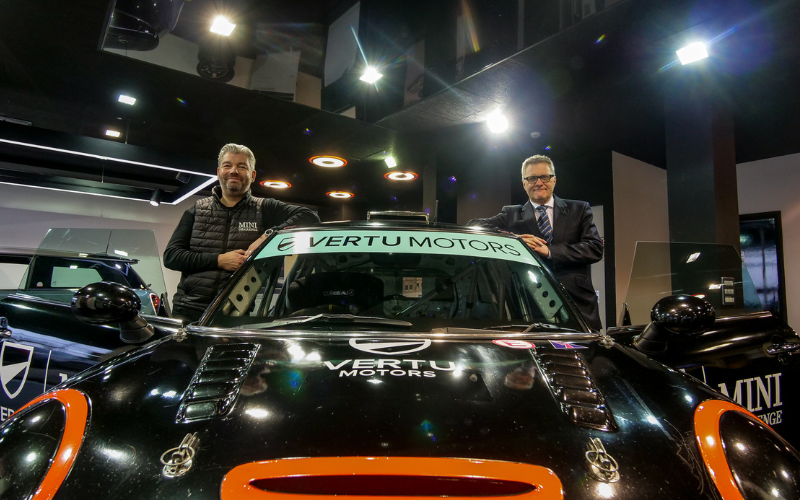 Vertu Motors, a retail brand part of the Vertu Motors group, is racing ahead with a deal to be the Official Partner of the MINI CHALLENGE Championship for the 2023 season.
The deal expands upon the existing motorsport partnership activity between the UK's fourth largest motor retailer group, through its retail brand Bristol Street Motors, and the title-winning British Touring Car Championship (BTCC) team EXCELR8 Motorsport.
The Bristol Street Motors with EXCELR8 Motorsport team includes British Touring Car Champion for 2022, Tom Ingram, in addition to experienced racing driver Tom Chilton.
The new partnership between Vertu Motors and MINI CHALLENGE will see branding appear on the windscreen of all competing Cooper and JCW Class MINI race cars, on support vehicles and around racing venues up and down the country.
Rebranded The Vertu Motors MINI CHALLENGE, drivers will also take part in a number of initiatives and customer engagement activities as the series tours the UK.
The Vertu Motors MINI CHALLENGE will form part of ITV's coverage of the BTCC, as it travels to many iconic British racetracks. It sees more than 50 racing drivers go head-to-head across two classes; the Cooper Class, which is the entry level race, and the John Cooper Works (JCW) Class, which has higher specification vehicles closer to the standard of the touring cars.
Vertu Motors has an extensive list of MINI retail centres across the country, including Sunderland, Durham, Teesside, Malton and York dealerships, in addition to the recently acquired Exeter, Barnstaple, Bridgwater and Yeovil dealerships formally part of Helston Garages Group, all to which this new partnership will represent.
Robert Forrester, Chief Executive of Vertu Motors plc, said: "I am delighted that Vertu Motors is now an Official Partner with MINI CHALLENGE for this coming season. We have worked with the organisers for several years now and have admired their commitment, passion and enthusiasm for this series.
"Our Group's brands already have strong roots in motorsport and a history of support across a multitude of disciplines, from the Birmingham Superprix in the 1980s, to sponsorship of Channel 4's coverage of the Formula 1 in recent years, and of course, our Bristol Street Motors British Touring Car Championship team with EXCELR8 Motorsport.
"We strongly believe that this new partnership with MINI CHALLENGE, a very exciting, 'Best of British' motorsport series, epitomises many of the characteristics the Vertu Motors brand embodies including precision, innovation, technical advancement, commitment, determination and teamwork. We look forward to supporting each race weekend and connecting fans and communities with our ever-growing brand.
"I am very excited to see the MINIs out there on the track this season!"
Antony Williams, Championship Director for The Vertu Motors MINI CHALLENGE, said: "We're incredibly excited and grateful to have the Vertu Motors brand on board with us for this coming season. Their enthusiasm and support have been brilliant already.
"The MINI CHALLENGE is the UK's premier single make race series and offers a great opportunity for drivers to put their skills to the test at some of the best tracks this country has to offer.
"The Vertu Motors group already holds brands that are well-known for championing motorsport at all levels, and we're excited to see the Vertu Motors retail brand, which includes a multitude of MINI dealerships nationwide, fly the 'chequered' flag too.
"We're all looking forward to the season ahead!"