Vertu Motors Gets Behind Hughie And Freddie's Latest Fundraising Challenge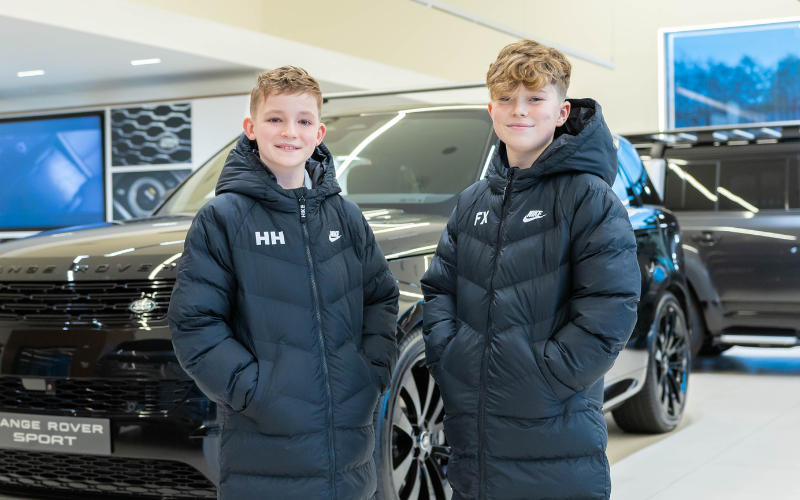 Vertu Motors Nelson Land Rover is making sure Pride of Britain winners Hughie Higginson and Freddie Xavi arrive in style for their latest fundraising adventure.
A Land Rover Discovery has been lent to transport the boys and their support team, as they aim to run 100km around the 92 football pitches in the Premier League and English Football League, in addition to other iconic stadiums in the UK.
Over the past two years, the boys have raised more than £250,000 for Royal Manchester Children's Hospital. The pair have been avid supporters of the Charity since 2020, when Hughie was diagnosed with ALL (Acute Lymphoblastic Leukaemia) and began urgent treatment at the hospital.
This time they will be raising money for the oncology wards closest to each football ground, so the North West teams will still be for Royal Manchester Children's Hospital, but others will be for their local hospitals. The money will be used to provide slushy drink pouches for children who are having chemotherapy, especially to help with the painful and sore mouths that are one of its side effects.
Bristol Street Motors, which is part of the wider Vertu Motors group, also has provided new training jackets for the best friends.
Robert Forrester, Chief Executive of Vertu Motors plc, met the pair through their mutual love of Burnley Football Club and immediately agreed to support their latest feat.
He said: "As soon as I met Freddie and Hughie, I knew that we had to do something to support their determination, bravery and commitment to helping other children who are going through the toughest of times.
"It's a tremendous challenge they have set themselves, but I am absolutely certain that, as fellow Burnley FC fans, they will complete it courageously and raise a significant amount of money for the hospitals!"