Vertu Motors Supports Afternoon Tea At Trent Bridge Trust's Dementia Day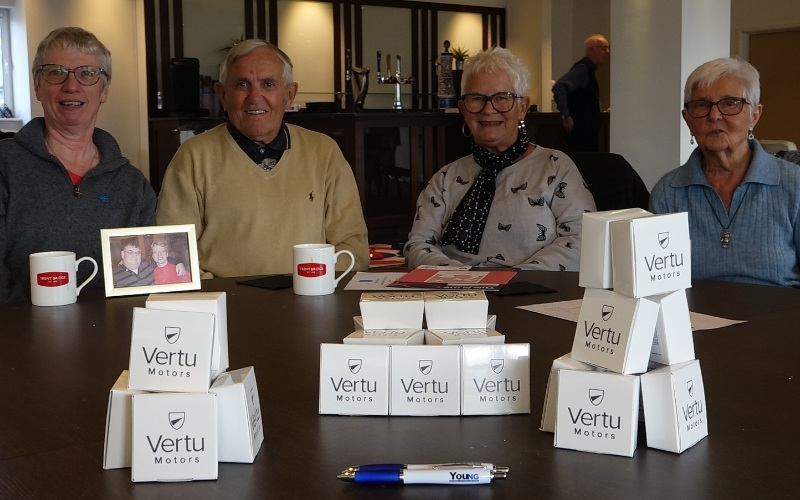 Vertu Motors treat carers of those living with dementia, as the Trent Bridge Community Trust lays on a safe and secure day out at Nottinghamshire's historic home.
Vertu Motors, in partnership with the Trent Bridge Community Trust, has treated carers to an afternoon tea in a show of support for those impacted by dementia within the local community.
The event, pioneered by the Trust as part of its ongoing Forget Me Notts initiative, which provides a programme of regular stimulating activities for participants throughout the year, takes place twice a season on an LV= Insurance County Championship matchday at Trent Bridge.
It sees the Trust lay on essential respite care, thus affording carers the opportunity to enjoy a social afternoon with a cricketing backdrop.
Mark Clifford, Trent Bridge Community Trust's Community Projects Manager, commented:"We're always delighted that we can come together and have this opportunity to help and support those living with dementia, as well as their carers.
"It provides them with the chance to enjoy some light-hearted games and activities, whilst taking in some of the live sport at such an iconic location.
"It also allows us to come together with Nottinghamshire County Cricket Club to host such a worthwhile experience, further strengthening that much-needed relationship with them and our communities.
"We'd like to send our heartfelt thanks to Vertu Motors who provided today's afternoon tea, as well as a complimentary box of chocolates for each participant."
Carer, Mary Dunne added: "I think I speak on behalf of everyone here today when I say we have had a wonderful time thanks to Trent Bridge Community Trust, and I have to say that the afternoon tea and chocolates from Vertu Motors were a lovely surprise and a greatly appreciated addition to the day.
"It has been lovely to have a period where we could just relax, safe in the knowledge that our loved ones were well looked after.
"I can't thank the Trust and Vertu Motors enough for what they have done. Long may these annual events continue."
Motor retail brand, Vertu Motors, which has been partners with Nottinghamshire County Cricket Club since April this year and has an extensive portfolio of partnerships across a variety of sports, contributed to the event with a view to making the carers feel special and to give back to the local community, with each guest leaving with a box of Vertu Motors chocolates.
Robert Forrester, Chief Executive of Vertu Motors said: "We're hugely passionate about our local communities and the value they provide. The role of a carer is extremely difficult, especially after the last couple of years. To be able to give back in some way and offer them a nice treat at Trent Bridge is great.
"We are all very grateful for their tireless work, so to thank them for all their efforts and reward our local Nottingham community in this way was an easy decision to make.
"We look forward to continuing to work with Trent Bridge into next season and supporting their wider communities in the process."
Photo caption - Local carers of those living with Dementia were treated to afternoon tea, courtesy of Vertu Motors, at Nottinghamshire Foundation Trust's 'Forget Me Notts' event.