Vertu Toyota Chesterfield Commits To Ongoing Support For Ashgate Hospicecare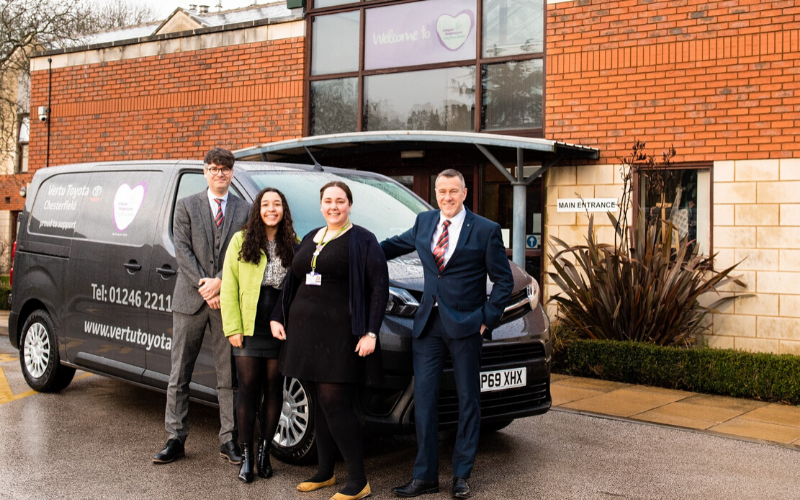 Vertu Toyota Chesterfield has committed to ongoing support for local charity Ashgate Hospicecare following many years supporting the organisation.
The dealership, based on Lockoford Lane, supports yearly events held by the charity including the sparkle night walk, classic car show, open air cinema and light up a life Christmas event. General manager David Littlewood also commits a significant amount of his own time to volunteering at the hospice and has a strong bond with employees and other volunteers.
Recently, Vertu Toyota Chesterfield donated a van to the charity which will be used to transport vital equipment to patients' homes across North Derbyshire, to help them stay at home when it matters most. The specially branded van will also make appearances at various events, raising awareness of the hospice and supporting the hospice's fundraising efforts.
Ashgate Hospicecare offers specialist care and support to patients with life-limiting illnesses and extends its support to families during these tough times.
David Littlewood, general manager of Vertu Toyota Chesterfield, said: "Supporting Ashgate Hospicecare is really important to the dealership. The hospice is a fantastic facility which offers amazing care to those with life-limiting illnesses and their families across the whole of North Derbyshire."
Alison Ward-Foster, partnerships manager at Ashgate Hospicecare, said: "We're eternally grateful for the support we receive from local businesses, in particular Vertu Toyota Chesterfield. The hospice relies on fundraising and help from local businesses in order to provide care and support to patients, and the donations from Toyota Chesterfield will make a huge difference. Thank you!"