West Bromwich Motor Retailer Supports Local Grassroots Football Scheme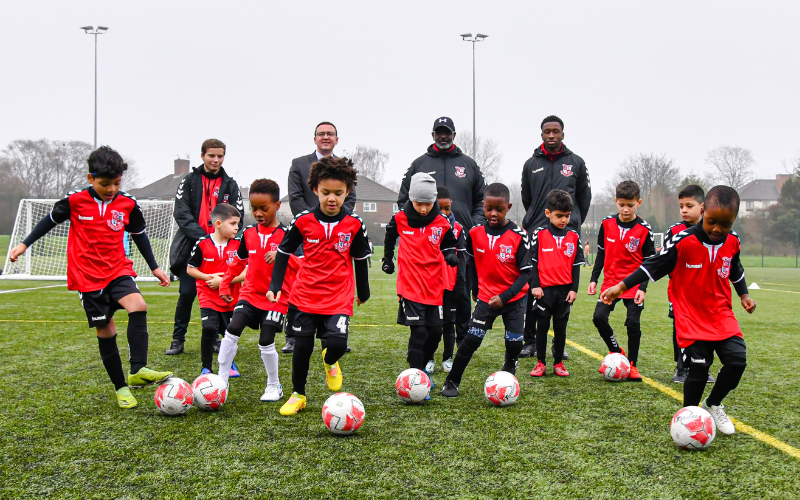 Bristol Street Motors West Bromwich Ford is supporting a sporting initiative that has helped improve and transform lives in the Wolverhampton area.
The dealership is donating £1,500 to New Park Village Football Development, which combines football and learning programmes catering for boys and girls aged four to 16.
Set up by former Wolves player and local resident Joe Jackson, it originally was launched to tackle gang crime and bring rival communities together.
Since 1998, it has grown to help improve the lives of young people across the city and works with those from many different backgrounds.
The Bristol Street Motors West Bromwich Ford donation will be used for playing kits and equipment for the Academy Programme, specifically the under 7s and under 8s teams.
Joe Jackson, Founder and Managing Director at New Park Village Football Development, said: "This generous donation from Bristol Street Motors West Bromwich Ford is gratefully received by all at NPV Football Development.
"Not only will it help sustain our activities, but it is important to us to forge meaningful relationships with local businesses.
"This level of assistance means we will be able to support the physical and mental wellbeing of local youngsters, as well as help them develop life-enhancing skills, which will stand them in good stead now and in the future."
Robert Forrester, Chief Executive of Bristol Street Motors, said: "Bristol Street Motors takes its role within the wider community very seriously. This is even more important with community organisations and charities hit by the cost of living crisis, at a time when their services have never been more vital.
"As a result, we encourage colleagues at our dealerships to identify initiatives and schemes worthy of the brand's support.
"This is a fantastic scheme, which has had a huge impact on the lives of children and young people over the years.
"It enables them to develop new skills, forge new friendships, and raise their confidence and aspirations. We are proud to help NPV Football Development continue with its wonderful work."
NVP Football Development was born in 1998 after Joe Jackson decided 'enough was enough' and that something needed to be done to bring about change in an area plagued by crime and rival gang warfare.
The Academy uses football as a tool to engage young people, vulnerable to gangs and related criminal activities, and their families, from the New Park Village and Heath Town areas. The aim was to break down barriers and bring the two communities together.
Since then, its Learning Through Football scheme has expanded to embrace the whole city and surrounding areas, and no longer solely focuses on youngsters affected by gang violence but also works with those from a range of backgrounds and ability levels.